Model 92
Grommet Machines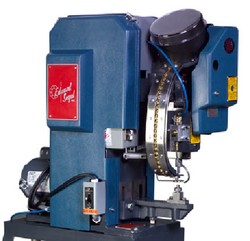 Edward Segal Inc. manufactures a full line of the Model 92 Grommet Machines. This product line offers a fast, reliable, and efficient solution to maximize productivity in feeding and setting grommets. A Model 92 offers upgraded power when compared with the Model G83 by using a stronger motor and larger flywheel, all to generate more inertia. These machines are semi-automatic which means the grommet is automatically fed but the washer, if used, is manually placed on the lower die. Edward Segal Inc. offers faster, fully automatic machine models for maximum speed and productivity.
The base Model 92 is appropriate for applications where the holes are pre-punched and can accomodate standard grommet sizes up to a No. 5 Rolled Rim (Spur). Grommet sizes can be easily converted with changeover raceways and setting tools.
Configurations
The G2R92 includes the Double Revolution feature which is designed to run through the cycle two times. The first cycle punches a hole in the material and the second cycle attaches the grommet; all of this take place in about 1 second.
Features (for 92/G2R92)
· Interchangeable raceways and tooling for different grommet sizes up to a standard No. 5 Plain
· Ring Guard Safety Device is standard, with option for Double Palm Buttons
· Optional Fixed or Mobile Machine Stands
· Optional Work Support Fixture and Material Positioning Gauges
· Optional Laser Target Light and Product Runout Sensors
Specifications (for G83/G2R83)
Dimensions (W x D x H): 12" x 23" x 24.5"
Weight / Crated: 350 / 400 lbs.
Stroke: standard 2.75", special from 2" up to 3.5"
Throat Depth: standard 7.25", special up to 15"
Flywheel Speed: 160 RPM
Electrical: 110 Vac, 60 Hz, 1 Ph.
Motor: 1/2 HP, 1140 RPM
Air: 60-80 psi