KP10
Kick Press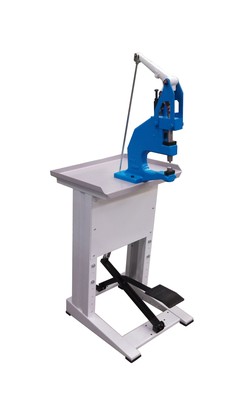 KP10 Kick Press
The Model KP10 is an advanced kick press that utilizes an engineered, foot powered mechanism to produce a powerful stroke with minimal effort. Tooling for the KP10 is available for setting eyelets, grommets, and snap fasteners, as well as hole punching.
The KP10 assembly consists of the stand with a work plate, press and foot pedal. It is available to ship assembled and ready to go to work, or unassembled.
When the physical demands of manually setting eyelets, grommets, or snap fasteners is too much, consider putting a KP10 to work for your company.