Powersnap
Snap Fastener Attaching Tool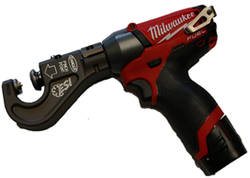 The Powersnap is an innovative power tool that combines the force of an impact driver with the engineering of snap fastener machines. A specially designed C-frame mounts directly to the Impact Drive and allows the Powersnap to be used much like any type of setting machine. Simply load the product onto the tooling and then engage the trigger and the driver will start the cycle. When the driver reaches the bottom of the stroke, simply switch the tool to reverse to retract the ram.
Fabricators and installers will quickly benefit from the portability of the Powersnap, as no other powered tool offers the ability to bring this feature right to the job site. Whether it is for a new installation or repair, each and every installer will benefit from the capabilities of this power tool.
The Edward Segal Inc. Powersnap is sold as a complete package with the Impact Driver and C-Frame. A single battery charger and two batteries are also included with the package. One set of tooling for Snap Fasteners is included and other industry standard sizes are generally kept in-stock and sold separately. Custom tooling can be made for many different size fasteners.
Specifications
Size: 10" long
Weight: 3.5 lbs.
Power: 115v
Throat Depth: 1.5"
Stroke: 5/8"
Air: None