83GW
Electric Grommet Machine - Fully Automatic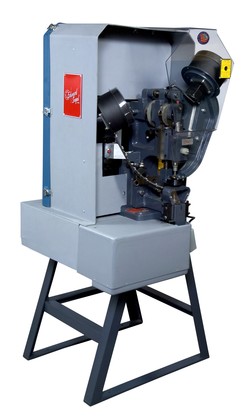 The Edward Segal Inc. Model 83GW is a fully automatic grommet machine that pierces a hole in the material and feeds and attaches both the grommet and washer, all in a single cycle. The result is a strong, durable quality settings with reduced operator fatigue, a safer operation and a fast return on investment. The 83GW is especially suited for lighter materials, including most vinyl and cloth, as it pierces a hole compared to punching a clean hole. With the pierce, the extra material folds back and provides a larger foundation to set the grommet and washer against.
Advantages
· Increased Productivity: customers report increases in excess of 300% over conventional double revolution grommet machines.
· Stronger Settings: material is not cut out, but is clinched between the grommet and washer.
· Reduced Operator Fatigue: the operator simply positions the materials and cycles the machine.
· Increased Safety: the operator does not have to put fingers in the setting area to load the washer.

Optional Equipment
· Mobile Machine Stand with Casters
· Adjustable Spacing Gauge
· Laser Target Light
· Upgrade to 83GW-U for pre-punched work
Specifications
Dimensions (W x D x H): 30" x 30" x 66"
Weight / Crated: 600 lbs / 750 lbs
Electrical: 115 Vac, 60 Hz
Motor: 1/2 HP, 1140 RPM, Single Phase
Air: 50-60 psi; 0.2 cfm